Ontario law society lags in victim compensation
The case involving Toronto lawyer Javad Heydary, who disappeared amid allegations that millions in trust funds is gone is prompting calls for reform.
News reporter,Published on Tue Dec 10 2013
There are more lawyers in Ontario than any other province, yet when lawyers steal from their clients, the victims are eligible for less compensation than almost anywhere else.
The Law Society of Upper Canada, which regulates the profession in Ontario, provides victims of lawyer "dishonesty" up to $150,000 through a victim compensation fund paid for with annual fees from its 40,000 licensees. The law society is not aware of any case in which that cap has been waived.
However, an analysis of policies across Canada shows the limit is significantly lower — and more rigid — than in many other jurisdictions.
That fact has spurred calls for reform in the wake of the scandal surrounding Toronto lawyer Javad Heydary, who fled the country on Nov. 15 amid allegations that more than $3 million in trust funds his firm was holding for a Mississauga couple was missing.
"It is incidents like these that draw to our attention how inadequate certain policies are," said lawyer Ray Thapar, who is representing the Mississauga couple.
In Ontario, where some of the largest real-estate transactions and commercial litigation settlements in the country take place, more money is passing through lawyers' trust funds than ever before. But policies in place to compensate those who lose money at the hands of dishonest lawyers appear to be lagging behind.
The law societies in Alberta, Nova Scotia and New Brunswick do not place limits on individual claims. In Manitoba and British Columbia, the cap is $300,000, but the law societies can increase that if the claim exceeds that amount. In Prince Edward Island, the limit on individual claims is half of what's in the compensation fund, which currently sits at $700,000.
And in Saskatchewan, where the law society oversees about 1,700 lawyers — fewer than 5 per cent of the number in Ontario — the limit on payments on behalf of each member is $250,000, although there, too, there is the freedom to raise it in certain circumstances.
Of the 10 law societies that provided information to the Star, only the Law Society of Newfoundland and Labrador and the Barreau du Quebec have lower caps on individual claims than the Law Society of Upper Canada. However, in Quebec, where the limit is $50,000, the executive committee can recommend a higher payout "under special circumstances justified by humanitarian considerations," according to spokeswoman Martine Meilleur.
The Law Society of Upper Canada declined over several days to make Thomas Conway, who holds the top position of treasurer, available for an interview for this story.
In an e-mail, spokesman Roy Thomas said that comparing victim compensation funds "based solely on limits is the equivalent to comparing apples to oranges."
"A proper comparison of the compensation funds among provincial law societies needs to take into account a number of factors, including the different ways they operate, the extent of exposure, the risks, the number of licensees in each jurisdiction and other similar factors," Thomas said.
The Law Society of Upper Canada, he said, "does not have an insurance option for this type of compensation." It is available, however, in several other jurisdictions, Nova Scotia and Saskatchewan among them.
There are also other differences between provinces. In New Brunswick, for instance, claims to the victim compensation fund can be made as soon as a complaint with the law society is lodged. But in Ontario, "all other reasonably available legal remedies should be exhausted" before the fund, which is considered a "last resort," can be tapped, Thomas said.
Depending on the case, these "remedies" could include suing the lawyer believed to be at fault, filing a report with police and making claims through the Land Titles Assurance fund of the Criminal Injuries Compensation Board. (Except in very rare cases, the malpractice insurance that all lawyers in private practice are required to have does not cover losses incurred due to theft or other dishonest behaviour.)
But those options did not satisfy Ed Lalonde, a Stratford resident who lost more than $210,000 at the hands of real-estate lawyer Ed Hastings in the mid-'90s.
Lalonde spent tens of thousands of dollars trying to get his money back — a years-long effort that included an unsuccessful attempt to sue the Law Society for allegedly bungling its investigation into Hastings, who was disbarred in 1998. (As the Ottawa Citizen reported, Hastings diverted more than $130,000 from Lalonde's trust fund two days after the law society commenced an audit of the account in 1994.)
Hastings pled guilty to criminal charges of theft and breach of trust in 1998 for bilking at least 8 clients out of more than $475,000, the Citizen reported. His sentence: 240 hours of community service.
Lalonde died of kidney cancer in 2006. According to his lawyer Paul Parlee, because he lost his money as a result of multiple incidents, Lalonde filed several victim compensation claims, although the amount he was awarded could not be independently verified. At the time, the maximum payout per claimant was $100,000. But what Lalonde received still left him "very substantially out-of-pocket," Parlee said.
The Law Society of Upper Canada increased the limit on individual claims in 2008 to $150,000, however, Parlee said it remains insufficient.
"I think the cap is too low, and there ought to be some flexibility in waiving it," he said.
Lalonde's brother said the hardship he endured is proof that "they need to change the whole system so the lawyers aren't holding any cash."
"Because there's nothing to stop them from taking the big block of cash and just disappearing," Michael Lalonde said. "Usually, once the money disappears, good luck trying to get it back."
The tremendous risk that clients take in entrusting funds to their lawyers makes the issue of victim compensation of paramount concern to Tom Schonhoffer, executive director of the Law Society of Saskatchewan.
Schonhoffer believes the per-member payment cap in his province of $250,000 "sends the wrong message to the public," and says it is time to consider increasing it.
"Most law societies take this very seriously," he said. "We do want to be seen by the public as offering significant protection; as saying, 'If you go to a lawyer, there are safeguards in place.'"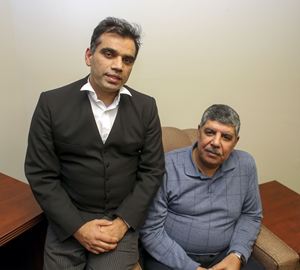 Searching for trust
Andrew Francis Wallace/Torstar Network
Hasan Abuzour (right) and his lawyer Ray Thapar at law office of Simmons da Silva and Sinton in Brampton. The Mississauga family man is fighting to get at $3.6 million held in trust lead to the unravelling of the Heydary law empire.