Missing lawyer Javad Heydary found in contempt
Litigator ignored order to repay couple's $2.1M held in trust.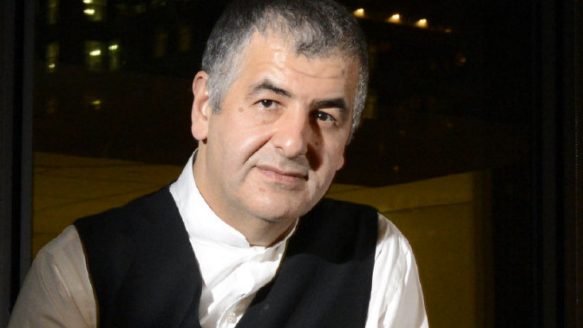 FOR THE TORONTO STAR / AARON HARRIS  Javad Heydary.
A prominent Toronto lawyer and his firm were found in contempt Friday for "deliberately or recklessly" ignoring a court order to repay $2.1 million of $3.6 million being held in trust for a Mississauga couple.
Most of the couple's money appears to be gone.
This is not the first time Heydary has been at the centre of serious allegations surrounding missing money.
Court documents obtained by the Star show that, in 2008, his former colleagues at Heydary Hamilton Professional Corp., the commercial litigation firm that appears to be at the root of his current money problems, filed a lawsuit against him detailing a series of alleged financial improprieties.
The lawyers alleged that, in 2007, Heydary electronically transferred $245,600 from the company's general accounts into "unknown or unidentified accounts" over a 10-month period.
"These amounts are neither accounted for in the PC Law accounting system nor are the withdrawals the subject of any resolutions of the board of directors," the statement of claim states.
Heydary's counterclaim states that the Law Society was alerted five years ago to allegations he mismanaged trust funds.
In court documents filed this week that granted the Law Society trusteeship over Heydary's half-dozen boutique firms, the judge said it was her understanding that Heydary was the only person with authority to withdraw funds from the firm's mixed-trust account.
It was concern about this very banking structure that prompted his former colleagues to take a close look at the books back in 2007, according to the lawsuit they launched against him. Heydary had suddenly claimed the firm was in financial trouble, which raised concerns, court documents show.
In addition to the unauthorized transfers, the 2007 lawsuit alleges Heydary was paid $20,000 in "unaccounted expense reimbursements." Meanwhile, Red Seal Notary, an affiliated company Heydary founded in 2004, was granted more than $167,000 from Heydary Hamilton in loans that "were not approved by the directors . . . and were not the subject of any board resolutions."
Heydary's partner at the time, Wilson Xavier Navarrete Gainza (known as Navarrete) as well as two other lawyers, resigned when Heydary refused to provide an explanation for the missing funds, according to the claim. 
Heydary filed a counterclaim in August 2009, alleging Navarrete and Glenis Michele Perinot, who jointly filed the lawsuit, had "clandestinely planned to leave" the firm to set up a competing law practice. He flatly denied all of the allegations against him and blamed Navarrete for the missing money.
According to Heydary, who sought $5 million in damages and $2 million in special damages, Navarrete oversaw the firm's billings, had the authority to made electronic transfers and was responsible for finalizing financial statements of the company — "which (he) repeatedly postponed doing."
Heydary said his "trust in Navarrete extended to the point that (he) would consent to Navarrete borrowing as much money from the firm that the firm could afford and he needed."
A total of $560,000 could not be accounted for during the period that Navarrete was financial director, Heydary claimed.
The lawsuit was settled last year. A source close to the case says the terms of the settlement are confidential.
In his counterclaim, Heydary cited a complaint filed against him with the Law Society in January 2008 by his former colleagues, which alleged "misappropriation and embezzlement of . . . funds, including monies held in trust, by Heydary for his personal benefit without the knowledge or consent of other directors and shareholders."
It also alleged "misrepresentation as to the financial affairs of the company to other shareholders" and "mismanagement of (Heydary Hamilton) and Red Seal Notary," according to the court filing.
Heydary also called that complaint "spurious."
The Law Society, which operates under provincial legislation, does not disclose complaints against its members or investigations into those complaints "unless and until a matter has resulted in formal discipline, which would be public," according to spokesman Roy Thomas.
"If there are allegations and evidence of a breach of the Rules of Professional Conduct or the society's bylaws, the Law Society will investigate and will take disciplinary action in appropriate cases," Thomas said.
"There isn't any specific time limit, but we're neither confirming nor denying any investigation at this point," he said.
Property records show that Heydary, who currently rents his Forest Hill home, sold a house in North Toronto for just over $1 million in May 2008.
A source close to the lawsuit said the missing trust fund money was repaid shortly thereafter.
Heydary was admitted to the Ontario bar in 2001. He has since expanded his practice to include a half-dozen boutique firms housed in a high-rent office in the heart of the financial district.
Toronto franchise lawyer Ben Hanuka said he has long been concerned about Heydary's questionable financial practices and his "cowboy" approach.
Hanuka was retained in 2009 by one of Heydary's clients. The client had paid Heydary a $50,000 retainer fee — hefty by any measure — to resolve a business dispute, but Heydary had told him it would cost even more to take on a lease issue, so the client went to Hanuka for that portion of the file.
Heydary launched an unsuccessful lawsuit against Hanuka for "conspiracy" to take over the file. When the client, dissatisfied with Heydary's account for how he spent the retainer fee, moved the rest of the file to Hanuka, Heydary sued the client (also unsuccessfully) for unpaid fees.
"Nothing that he did made sense," Hanuka said. "I've been telling colleagues and friends that he will go bankrupt, that he can't survive in the business of law by treating clients, colleagues and the courts this way. The only mistake that I've made is that I predicted that this would happen in the next couple of years."
It appears that the last time anyone heard directly from Heydary was Nov. 18, when he called his office and asked his law clerk to forward his "temporary" phone number in Iran to three associates in his office. There were numerous fruitless attempts to raise him at the number.
A sentencing hearing will be held Dec. 17. The Mississauga couple's lawyer, Ray Thapar, said he will be seeking "an unprecedented" fine and jail term as a warning to the whole legal community that tampering with trust money is the ultimate violation.
Heydary's wife, Marjan, hasn't been seen since Nov. 21, when she went to the Heydary offices and was handed legal papers warning that her husband was risking a contempt citation for missing the handoff deadline.
That day, she also told Heydary's associates that her husband was dead, a source said. The Star hasn't been able to reach the wife or verify that fact. The issue wasn't raised in court Friday.
With files from Alyshah Hasham