Lawyer probed over missing client funds
JEFF GRAY
 – LAW REPORTER
The Globe and Mail
Published Last updated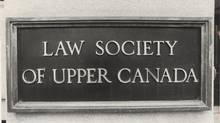 A Toronto lawyer is under investigation for allegedly misappropriating more than $3-million in funds kept in trust for a client and then leaving the country, the Law Society of Upper Canada says in court documents.
Ontario's legal regulator this week secured a court order to act as a trustee and take control of a group of small law firms that bear the name of Toronto lawyer Javad Heydary, saying he was being investigated for "serious allegations of professional misconduct." None of the allegations have been tested in court.
Mr. Heydary, who launched a lawsuit last year against the downtown Trump International Hotel & Tower on behalf of aggrieved condo buyers also represented a group of alleged fraud victims from the United States who were suing Bay Street law firm Cassels Brock & Blackwell LLP. He could not be reached on Wednesday.
According to an affidavit filed in Ontario Superior Court by Lawrence Hadbavny, a lawyer for the Law Society, Mr. Heydary left the country on Nov. 15, although the document does not say where he went.
The documents say the regulator received a complaint from another lawyer, Ray Thapar, on behalf of clients for whom Mr. Heydary's law firm was holding $3.6-million in trust.
In a court fight over the money, Heydary Hamilton PC was ordered by a court earlier this month to hand over $2.1-million and provide independent confirmation that the remaining $1.5-million plus interest was still held in trust. According to court documents, the orders were not followed.
The affidavit says the Law Society was told by a lawyer at Heydary Hamilton on Nov. 21 that there was just $319,067.82 left in the firm's trust account.
Law Society officials met with lawyers and staff at the firm on Nov. 22, the affidavit says, and were told that Mr. Heydary "would be a very strong and disruptive presence in the office" and that they were "concerned about him returning to the office." Many of the lawyers would leave if he returned, the document says.
The regulator says in the document that it has been told that numerous lawyers had resigned from the firm because of the "various allegations and investigations" and that one or more of the firm's lawyers had abandoned the business "without making provisions for the protection of client's interests."
Mr. Heydary, who is the sole or majority shareholder for several firms – Heydary Hamilton PC, Heydary Elliott PC, Heydary Green PC, Heydary Hayes PC and Heydary Samuel PC – worked out of offices in downtown Toronto and Mississauga. Mr. Heydary was called to the Ontario bar in 2001.